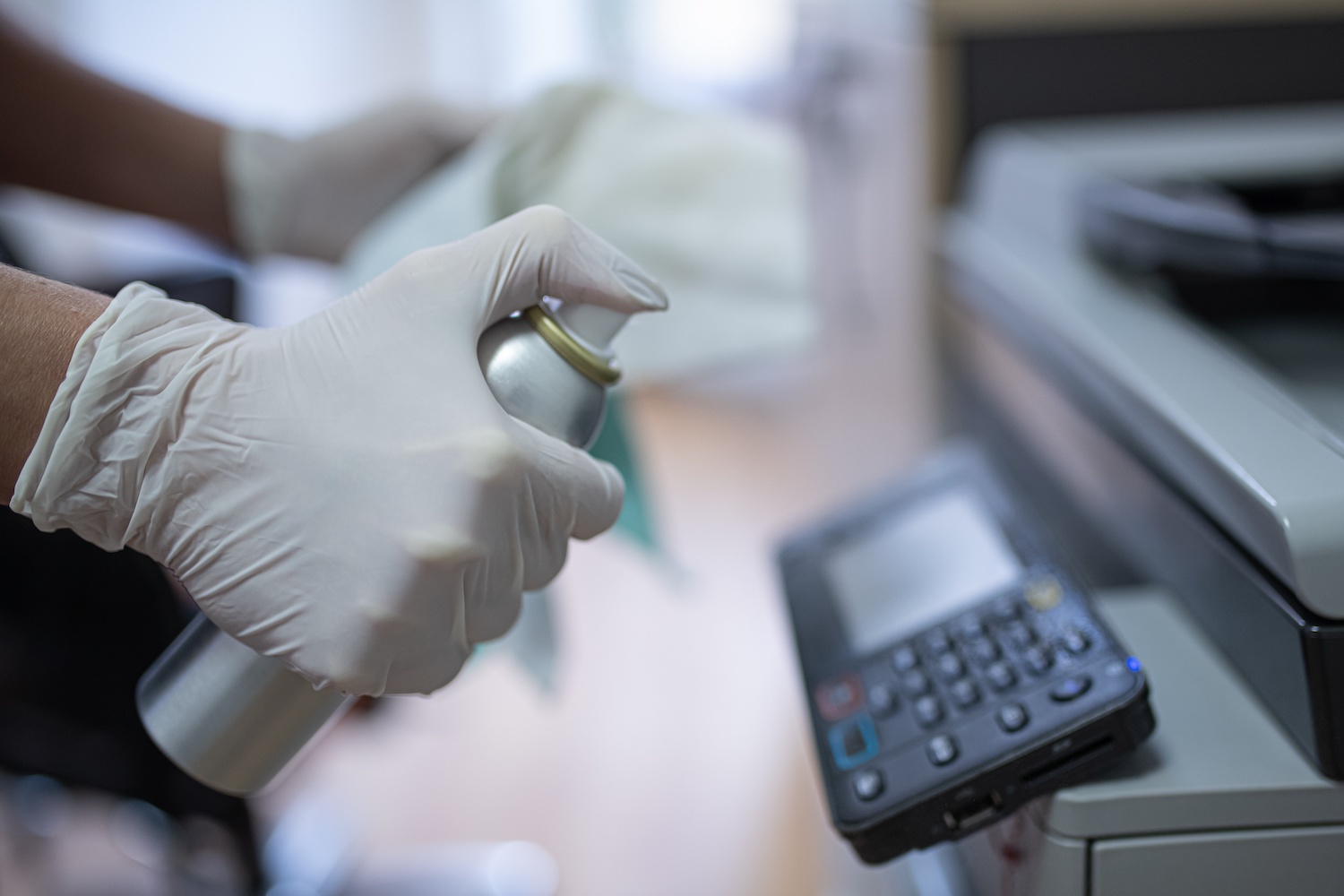 If there's one silver lining to be found from the global health crisis, it's that many of us are more aware of the importance of good hygiene than ever before. And as businesses begin to reopen, and workers start heading back into the office, an awareness of good sanitation practices is definitely a good thing.
Do offices harbour germs?
The BBC says that offices are 'prime sites for the spread of viruses and bacteria'. That's partly because the office environment usually sees many people working closely together in one space. It's also because some kinds of office equipment, like photocopiers and printers, are often shared between the workforce. It's a similar situation in education, with photocopiers for schools usually being operated by various staff members.
Though offices may have the right conditions for spreading germs, this doesn't mean that you can't do anything to reduce the risk. In fact, there are a few simple measures you can take to keep your photocopiers, printers, and other types of equipment clean and hygienic. By doing this, you can help to ensure that the office is a healthy, happy, and safe place. Not only for your staff, but for any guests, visitors, and clients, too.
Here are some easy ways to keep your equipment clean:
1 – Wash and dry your hands thoroughly before using any shared office equipment, and encourage others to do the same. It's a good idea to keep a bottle of hand sanitiser near your office equipment. This will both motivate and enable everyone to sanitise their hands before using the device. You could also choose to provide gloves (ideally washable, to reduce single-use items) for even more protection.
2 – Use a slightly damp cloth to gently wipe over the outside of photocopiers and printers to remove any surface dirt. Microfibre cloths are good – they're very soft and gentle on equipment, and won't leave any fluffy residue. It's important to focus on touchscreens, buttons, controls, and any other parts of the machine that are commonly touched. Try to do this a few times each day, and at least once per day.
3 – Sanitise commonly-used parts. If you want to sanitise areas such as buttons, a sanitising wipe or a very small (less than pea-sized) amount of sanitiser on a clean cloth is usually OK. Some household cleaners may be able to be used. You should, however, check the manufacturer's instructions to see if they can safely be used on office equipment. Never use sprays. As much as we enjoy printer repair in Kent, we'd rather your equipment didn't break!
Remember that if you've opted for printer or photocopier leasing, it's always best to check your contract to see what cleaning methods are recommended. Get in touch with your provider if you're not sure. If you've chosen to buy a printer or photocopier, check the paperwork first to ensure you're not invalidating the warranty.
Operating with confidence
Offices – and office equipment – collect germs. It's completely normal. But these germs don't have to pose a risk. By keeping your equipment clean, you can welcome back your workforce with confidence.